Pauline Skött, known professionally as Skott, is a Swedish singer-songwriter. Her music is noted for her own electric, ethereal vocals and instrumental accompaniment so essential it seems almost spare. In June 2016 she released her debut single "Porcelain". In January 2018, she released her debut EP Stay Off My Mind and in June 2020 she released her debut album Always Live For Always to positive reviews from critics and fans alike.
Early life
[
]
Skott was born on October 4 in a small community in Vikarbyn, Sweden, known for its traditional customs and own language. Most of the village comprised of folk musicians and so Skott learned to play violin at a very young age. In fact, she wouldn't hear contemporary music until her teenage years, when she made a trip to the city and discovered the English rock band Muse. As an avid gamer, she also delved into video game music, composing imaginary soundtracks to favorites like Final Fantasy and Zelda. Later, she decided to pursue music and attended the Musikmakarna music school for two years and signed with Sony Music shortly after she graduated.
Music career
[
]
2016-19: Career beginnings, Stay Off My Mind EP, and Dollar Menu

[

]
Skott broke into the music scene with her debut single "Porcelain" in June 2016. Throughout the remainder of 2016 and through 2017 she released eight singles and two music videos for her songs "Glitter & Gloss" and "Mermaid". During this time she also played her first live shows, beginning through the last quarter of 2016. Beginning in June 2017, she embarked on a "World Tour" across Europe and the US - opening for the American band Phantogram and Danish singer MØ on select dates. In September 2017 she collaborated with LA-production duo Grey on a song for their debut EP Chameleon titled "Crime". Later that same month, she was challenged to create an entire song in six hours with Floridian musician Twelve'Len for a GAP campaign. The result was a collaborative track titled "Test Our Luck". In February 2017 Skott covered Carol King's song "You've Got a Friend" for BBC Radio 2 and Alicia Keys' song "In Common" for BBC Radio 1. 
Skott's debut EP, Stay Off My Mind, was released on January 11, 2018. A few days later on January 17 she attended and performed at the EBBA Awards where she received the European Borders Breakers Award. On January 20 she was nominated for two awards: "Best Pop" and "Future Artist" at the P3 Gold Awards. On February 7 she released a music video for the title track, "Stay Off My Mind", while an official remix by P3GI-13 and Skott herself was released on March 9. An official lyric video for another song off the EP "Russian Soul" was released on March 12. During this time Skott supported Danish singer MØ on several tour dates throughout March and April 2018. Later she also announced several 2018 summer festival dates where she performed.
Throughout late 2018 and into 2019 Skott collaborated with several other musicians on tracks and performances. On October 10, 2018 she featured on French DJ and music producer Petit Biscuit's single "Suffer". On January 28, 2019 she and LÉON covered twenty one pilot's song "Stressed Out" for P3 Sessions. Later, on March 6, 2019 she was featured on German-born electric soul singer NoMBe's reimagining of Angus & Julia Stone's song "Big Jet Plane" titled "Wait 2.0".
In August 2019 Skott announced that she started her own record independent record label, Dollar Menu. In an Instagram post she stated that she created the label as a way to get music to her fans more quickly as well as to keep her "creative process intimate" and avoid the "politics etc. within the music industry".
2020 - present: Always Live For Always

[

]
On June 9, 2020 Skott covered Dua Lipa's song "Break My Heart" for P3 Sessions. She co-wrote a song titled "Eternally" with South Korean boyband TXT released June 28, 2020.
Skott's debut album, Always Live For Always, was released June 26, 2020. The album was proceeded by the singles "Bloodhound", "Midas", "Kodak & Codeine", and "Talk About Me". Two of Skott's earlier singles "Porcelain" and "Amelia" appeared on the album as well. In August 2020 she re-released Always Live For Always with an added twelfth track titled "Darling".
On March 19, 2021 Skott released an acoustic version of her early single "Amelia".
A collaboration with musician Shylde titled "Tired" is set to be released on April 23, 2021.
Artistry
[
]
Writing process
[
]
Skott has said that she usually starts out writing a song on the piano by herself. However, sometimes she creates a beat that she likes and moves on from there. She even sometimes even uses an accordion to write songs though she is not the best accordion player. When it comes to lyrics, she says that they more often than not come after the music. "Its more about expressing something I feel and when I find that I can explain what it is."[1]
Skött family crest
[
]
Skott frequently paints her body. She says that she is "crazy about tattoo art, but don't think I could commit. I want it to be like jewelry."[2] She often paints her family crest - an "H" symbol - on her hands or on her face.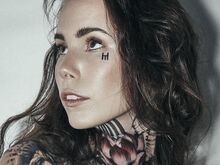 The crest can also be found in the artwork she creates for her music. On the subject of her family crest Skott has said, "back in the day, you used your crest to mark your tools and your carriages and stuff that belonged to the farm, and we [Skott's family] still have the crest."[3]
Influences
[
]
When she was 14, her friends introduced her to video games and computer games. She acquired a tracker program so she could make her own video game music, like blip music. She often enjoyed pretending that she was creating music for video games.
At age 16, she discovered the band Muse and she then started listening to more pop and rock music. She states that Muse was the first band that she listened to the whole album and then got really inspired by.[4]
Discography
[
]
Studio Albums
[
]
Title
Details
Always Live For Always
Release Date: June 26, 2020

Label: Dollar Menu, Cosmos Music

Format: Digital Download, Digital Streaming
Extended Plays
[
]
Title
Details
Stay Off My Mind
Released: January 11, 2018

Label: Chess Club, RCA

Format: Digital Download, Digital Streaming
[

]
Singles
[
]
As featured artist
[
]
Title

[

]

Year
Album
"Crime"

(Grey featuring Skott)

2017
Chameleon EP
"Suffer"

(Petit Biscuit featuring Skott)

2018
Suffer I Safer EP
"Wait 2.0"

(NoMBe featuring Skott)

2019
The Might've Even Loved Me (Re:Imagination)
Other songs
[
]
Title
Year
Album
"Test Our Luck"

(Twelve'Len x Skott)

2017
Non-album

Created for a GAP campaign
Covers
[
]
| Title | Original Artist | Year | Additional info |
| --- | --- | --- | --- |
| "You've Got A Friend" | Carole King | 2017 | for BBC Radio 1 |
| "In Common" | Alicia Keys | 2017 | for BBC Radio 1 |
| "Stressed Out" (with LÉON) | twenty one pilots | 2019 | for P3 Sessions |
| "Break My Heart" | Dua Lipa | 2020 | for P3 Sessions |
Concerts and tours
[
]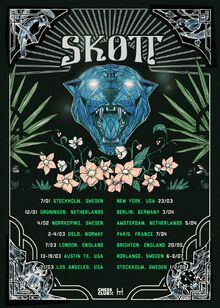 Awards and nominations
[
]
| Year | Award | Category | Nominated Work | Result |
| --- | --- | --- | --- | --- |
| 2018 | EBBA Awards | European Borders Breakers | Skott | Won |
| 2018 | P3 Gold Awards | Best Pop | Skott | Nominated |
| 2018 | P3 Gold Awards | Future Artist | Skott | Nominated |